"The Model Train Hobby Shop With Some Of
The Best Online Model Railroading Buys..."
We've searched the net and found some of the best products available for the model railroading enthusiast... from model train supplies and accessories, hobby tools and supplies, model railroad building kits (both plastic kits and kit downloads), as well a some excellent book downloads with lots of useful ideas and "how-to" solutions to railroad problems.
Many of the items listed on this site are on SALE or include special bonus gifts! There's even information about the very popular model train club online. So, explore our Model Railroad Hub website, watch the videos, and see what you can find. Enjoy your hobby!
Downloadable Model Railroad Books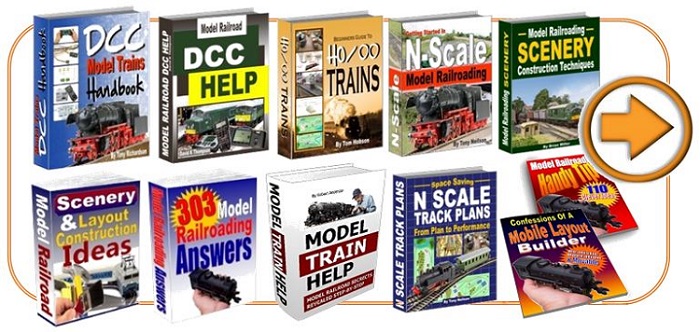 Buy Model Railroad Buildings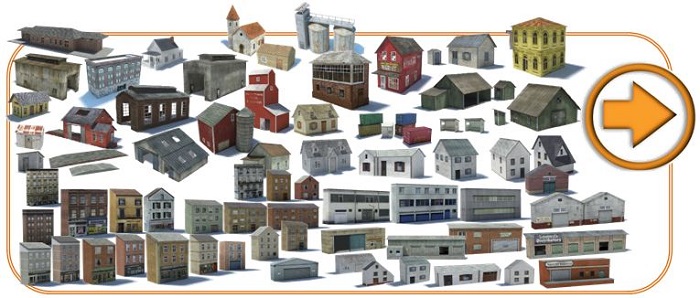 Access The Online Model Train Club

FREE Model Railroad Report

Many people like to take up hobbies to occupy their spare time. These hobbies come in all shapes and sizes and are vastly different as the people that perform them. Some people choose to buy trains, parts, supplies, and accessories and build their model train setup completely from scratch. The size, type, and shape of these model railroads are as varied as the people who choose to build model trains as a hobby. There are local events in many libraries where model railroad enthusiasts set up model train sets to display for the publics enjoyment.
Railway layouts are just one of the many things that makes the hobby of model trains fun for people of all ages. Train modelers probably enjoy creating railway layouts almost as much as collecting trains and operating them. Designing layouts involves more than just places some trees and buildings on a tabletop. Actually, there are several important steps to consider before implementing a layout so that it can be successfully integrated with the model trains being used in the layout itself.
Initially, you must select a scale size, which is the actual size of your model train. These scales encompass a minute-sized Z-scale for very small layouts up to large G-scale trains, which are almost always set up outside in gardens or other specialty areas. Browsing this website or various online hobby shops to see first-hand the different scales available can help you in deciding what scale you would like to use in a railroad. Your choice will also depend on how much area you have to build your layout.
Model train sets (layouts) can be basement hobbies that take up a small corner or the whole basement – or garage hobbies that take up the whole garage. Some folks build small-scale model train sets that can fit in a bedroom or office. Other folks like to build a scale model railway that runs along a shelf at the top of their house, and goes around their entire house. There are a vast number of designs that builders can choose from. Many enthusiasts choose to create their own designs, as well.
When you get ready to build a model train set, you will need a few things. For starters, you need to decide what scale you want to build your set. The most popular scale worldwide is HO, but there are others to choose from including the OO scale which is extremely popular in the UK, and N scale which is popular with those who have a limited hobby space available. Next, you will need to decide on a model railroad. You can design your own setup, you can buy the plans for a pre-designed layout.
Determining the importance of your layout starts with asking yourself if you are creating a scaled down version of a real prototype railroad or not. If you are, then you need detailed plans about scenery, buildings, train stations, and other details along the route of the real railway. If you are not designing your scale railroad after a real one, then you need to decide on the size, how much track length, and what types of scenery you are going to include in your layout. If you are going to model everything on a real railroad, them researching every aspect of the operation or history of the railroad will become a major focus in the planning stage. Many modelers find researching one of the most rewarding aspects of the hobby.
Once you have carefully organized these details, you will be able to begin the process of purchasing accessories and supplies and actually building the railroad. This can be a lengthy process, requiring time, patience and skill. It is important to shop around model train hobby shops for the best buys and bargains. However, just remember, cheapest does not automatically translate into best value for money. Don't just buy what's on sale. Having a locomotive engine that can't pull more than a few cars and carriages is a waste of money. Buying quality locomotives is usually something you can't skimp on.
Once you have built your setup, you will get to enjoy the feeling of operating your own scaled down railroad. This will come with much satisfaction as you enjoy the finished product, a result of your hard work. The labor of your hands will pay off in the process of building a model railroad.
As someone new to model scale trains, it will help to educate yourself first about the various technical aspects of building a layout. Robert Andersons online model train club is a great place to start reading advice and helpful tips from experts who have been collecting model trains for years. In addition, there are various how-to books (ebooks you can download) dealing with electrical wiring, detailing and maintaining your trains and layouts.
Also think about whether your layout is going to be permanent or something you want to keep supplementing before deciding where you are going to place your layout. Try sketching an idea of what you want your railway to look like - is it going to be a replica of pioneer town or a Christmas display? Perhaps you are thinking of something futuristic or fantastical? It's not as hard to simply erase something you don't want to include a layout rather than pulling something up that has already been affixed with glue.
As you are creating your masterpiece, remember that you should be able to comfortably reach all parts of the layout in order to put derailed trains back on tracks, fix something broken and so on. Train enthusiasts will tell you that a variety of things can go wrong after you have laid your track and accessories. Having easy access to all parts of a layout makes the process more enjoyable and less frustrating in the event of electrical difficulties as well.
Creating railway layouts for children especially requires the consideration of implementing clearly accessible areas and using less delicate accessories. Kids prefer things like bridges, roads and tunnels rather than trees, park benches or other rustic features. Construct buildings that are durable yet easily repaired and avoid layouts which are meant to produce an "appearance" effect. Also choose vehicles like dump trucks or firetrucks instead of just plain automobiles for added enjoyment.
When finished, model train collectors will test to see if there are any derailment issues, electric problems or anything else that may impede the actual performance of the train or trains meant to operate on the layout. Remember to clean you track every day so that dust doesn't cause your trains to malfunction while running on your railroad.
If you are asking yourself "where can I find model railroad hobby shops near me" then do a quick search of the internet for model train retailers using the name of your town in the search query. The other option is to buy your supplies from train shows and exhibitions, or online from eBay, Craigslist, or Amazon. There are several online stores that stock a wide range of locomotives, scenery materials, spare parts and accessories, with some retailing just certain lines.
Some of the railroad shops and dealers online include: Caboose Hobbies (caboosehobbies.com), Model Train Stuff (modeltrainstuff.com), Walthers (wathlers.com), Factory Direct Trains (factorydirecttrains.com), Georges Trains (georgestrains.com), Hobby Linc (hobbylinc.com), Hobby Connect (hobbyconnect.com), Reeds Hobby Shop (reeds-hobbies.com), Train Time Hobby (traintimehobby.com), HobbyTown (hobbytown.com), Strasburg Train Shop (etrainshop.com), Mainline Hobby Supply (mainlinehobby.com), Internet Trains (internettrains.com), Model Railways Direct (modelrailwaysdirect.co.uk), Train Shack (trainshack.com), and many more suppliers. Before purchasing always check shipping costs, guarantees, along with double checking you have the correct part or model number before proceeding to the checkout to pay via credit card or PayPal.
Young and old alike can enjoy the fun of building model train sets. Lessons can be learned about patience, listening, crafting and creating, while bringing an immense pleasure to the builder and co-builder. The sense of joy and pride that comes from watching something you built come to life is indescribable, and warms the hearts of many hobbyists. Completing the construction phase doesn't mean the fun is over, many enthusiasts enjoy the operation of their scale railway just as much as they enjoyed building it.